Since starting Inbox Health, we've facilitated more than one million digital payments on the web, phone, and in the office. In doing so, we've given patients a seamless customer experience, while also automating the arduous, manual payment posting process for providers. While we strive to bring that digital experience to as many patients as possible, we know paying on the web isn't the right option for everyone. Tens of millions of patients still prefer to use mailed checks to pay for their care, and managing those check payments has always been a friction point for healthcare providers and billing companies. 
This is why we built Mailbox, a seamless, automated, and contactless way to handle all incoming patient mail, including check payments.
This is not a lockbox
Lockbox products have been around for nearly a century, and while they fill a critical function for some large healthcare businesses, they don't create a seamless workflow for billing teams, and don't meet the needs of small and medium sized operations. In building Mailbox, the team at Inbox Health set out to create the first truly seamless, integrated experience around patient mail. We wanted to create a process around snail mail that felt like magic, and I think we've been able to do that.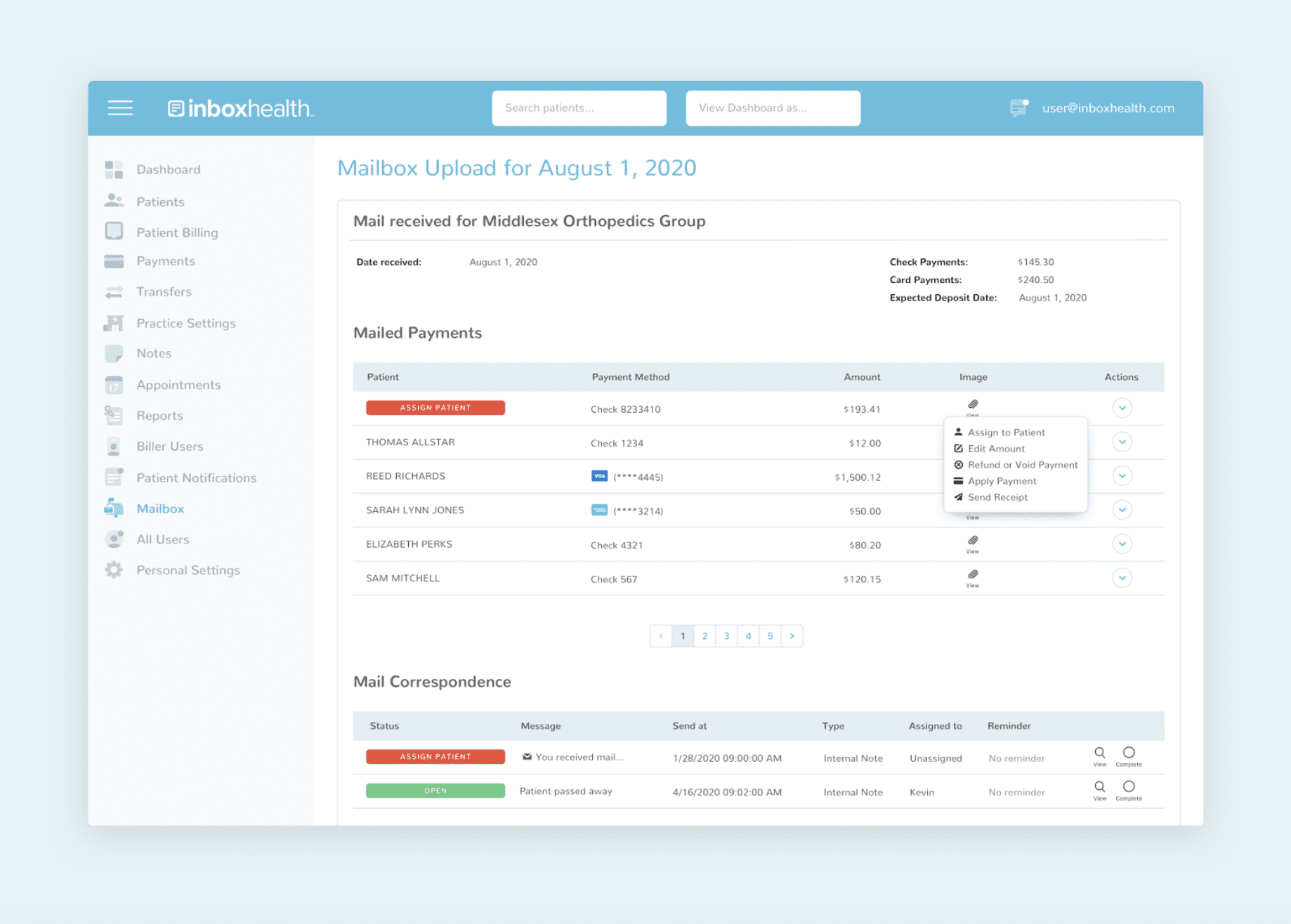 Inbox Health's Mailbox seamlessly:
Receives all mailed patient correspondence (insurance correspondence coming soon)

Opens and scans all mail (envelopes, vouchers, letters)

Deposits all checks in the practice's bank account and securely creates payments with handwritten credit card information

Posts checks and card payments to the appropriate patient accounts or creates tasks if the patient account can't automatically be identified

Notifies staff of overpayments and correspondence that requires follow up

Automatically creates transfer reports for payments deposited daily
These processes typically involve multiple physical touch points and the passing of files between different teams. With Mailbox they are now completely automated, from the opening of the envelopes to the generation of reports for finance.
Beyond the product functionality, we recognized that current lockbox products are not priced in a way that makes sense for most practices. The number of fixed fees (banking fees, P.O. Box setup, check processing costs, data storage fees etc…) make a lockbox solution untenable for most providers. With Mailbox, medical billers and practices pay no setup fees, no data storage fees, no PO Box maintenance fees. We only charge a very low percentage to process the check, and a small fixed fee. Mailed correspondence handling is free, and there are no fixed costs.
Get started fast
Best of all, Mailbox can be configured in seconds. If you're using Inbox Health's billing engagement platform now, our team can change your mailed check address to one of 13 locations in the US to start digitizing your patient mail right away.
Always improving
Bringing snail mail natively into the Inbox Health workflow is something we've been excited about doing for a long time, so we're thrilled to share this with our user base after more than 18 months of development. Over the coming weeks and months, you can expect more updates as our team works to support mailed insurance payments as seamlessly as patient payments, and adds more exciting capabilities to the platform.
As always, please let us know if you have any questions or feedback—we'd love to hear from you.